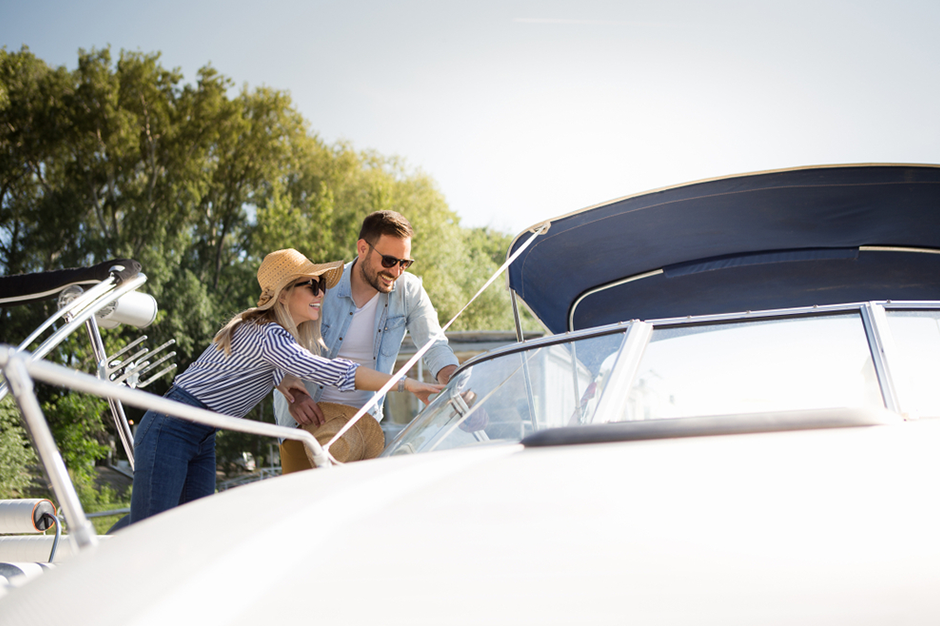 If you are planning to own a yacht and this is your first time, then the question that will keep haunting you is how to buy a yacht. It may sound very simple but ask any yacht owner and you will come to know buying a yacht requires a lot of time, effort, and a massive amount of money. So whether you are thinking of buying a sailing yacht, motor yacht, fishing yacht, catamaran, or a small sports yacht, the tips we will share here will be useful for you to understand the process and proceed towards yacht buying. 
Owning a yacht is a matter of great pride for anyone. However, it is not a cup of tea for anybody and everybody to own a yacht. So, unless you have a massive amount of money saved for the purpose of buying a yacht or you are earning enough to experience luxury on the sea, you should not proceed ahead.  
We assume, since you are reading this, you have already made the monetary calculations as you must have been following this luxurious beast for quite some time now. So, do not let any hesitation or doubt stop you once you have decided. Move further and find out what to keep in mind while buying a yacht. 
A few steps you need to take to make buying a yacht a smooth affair
So, how to buy a yacht? Ensure you first decide what kind of yacht best meets your yachting needs.
Let us find out in a few steps-
Know your yacht type
What type of yacht are you looking for? A motor yacht, a sailing yacht, a sports yacht, a speed boat, a fishing yacht, or a catamaran? Decide what you want for sailing and then start your search. This will narrow down your search to just one category and then you can focus on just that one category and will not be wasting time on boats that you do not need. 
New or a used yacht 
This is a very important factor before you start your search. Yachts are too expensive, so always decide if you are planning to buy a used yacht or a brand-new one. A used yacht will come with readily available features, but if you are planning to buy a brand new one you can request customization as per your need and convenience. However, new yachts are way too expensive. Although used yachts are also beyond the reach of people from every class, you will find them reasonably priced if compared to new ones. Your yacht broker is the right person to guide you on this. Talk to your yacht broker in detail and reach a decision that does not pinch you in your pocket. 
Size of yacht you are looking for
Narrow down the size range (length). Determining the size is important because it will tell you the passenger capacity and also the features and amenities. You should know the purpose of your purchase, that is, is it for personal use or commercial use? So, if you are purchasing a yacht for personal use you will have to see what kind of sailing you are planning, similarly for commercial purposes too you will need to decide what kind and what distance of plans you are planning to offer. 
Work with a yacht broker who knows your needs 
Do not hesitate to hire a yacht broker or a yacht brokerage company. You will be spending 100s of millions in the purchase of a yacht, so just one wrong step and all your money and effort will be wasted. Additionally, frustration and stress will add up to your woes. So, find a quality and reputed yacht broker to help you with the yacht-buying process. 
Conduct a sea trial before the purchase 
This is a very important point to keep in mind. Always take sea trials once you have liked the size, amenities, build, interiors, and exteriors of a yacht. The sea trial will give you a feel for whether to go ahead with the purchase or not. But make sure, you are taking the trial with your yacht broker. The broker will help you identify the defects if any if you are not very sure about how to detect the performance. 
Fix a budget and stick to it
You know your buying capacity better. So, make sure you fix a budget for your yacht purchase and stick to that. Once you fix a bidet you will focus only on the yachts that come within your budget. So it will save you time, effort, and money. Moreover, you will not be enticed to buy something that is beyond your budget. 
Take a certified sailing course
If you do not have any licensed training for sailing or boat safety or you do not hold any certificate of sailing then taking a boating sailing course is important. If you want to sail your boat, then you will have to obtain training and become a licensed sailor before you take your boat to sea. Even if you are interested in crewed yachts, a sailing course will help you in many ways.