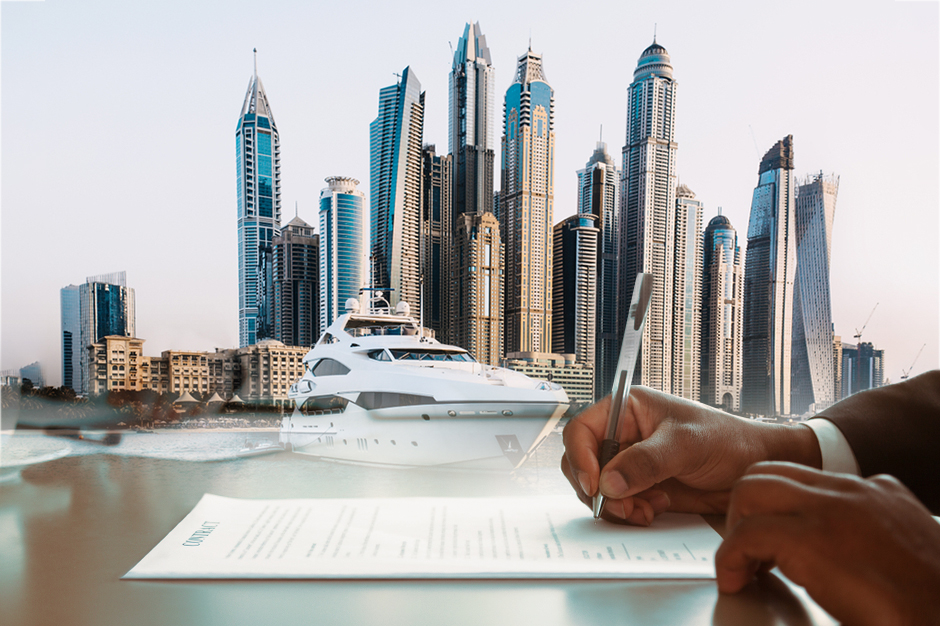 The extravagant lifestyle and freakishness of Dubai are very well known. But, it is a land that does not stop luring visitors from every part of the world. Apart from its exquisite construction projects emerging from every part of the city, like the man-made islands, this Persian Gulf coast city is a prime location for both business and leisure travellers. And as it is surrounded by seawater, it is a haven for lovers of water sports. 
Dubai is also one of the most sought-after destinations for a plethora of marine craft, all thanks to its extensive access to the Arabian Gulf. It has boats specifically designed for tourism or festive events and entertainment, while some are business vessels. No matter what kind of boat you want to purchase, use or sell, you will need to register it with the Dubai authorities. For this, you can take assistance from our law office in Dubai. Visit the office with all the necessary documents required to register your luxury yacht in this city.
What are the types of water vessels you can buy in Dubai?
You can buy a yacht in Dubai as per your preferences. So, decide whether you need a commercial yacht or a yacht for your personal use. Yachts or Marine crafts are defined into three categories by the law in Dubai: 
Pleasure vessels with engines: jet sky, boats up to 12 m, between 12 and 24 m, or over 24 m;

Pleasure vessels without an engine: rowing or sailing;

Traditional wooden vessels;

Commercial vessels: for public transportation, cargo transportation, etc.
How to Register a Yacht in Dubai?
To buy a yacht and own it in Dubai, you will first have to meet the residency requirement. If any foreign entrepreneur wants to buy a yacht in Dubai (UAE), he will either have to relocate to Dubai or apply for a visa. According to the Maritime Law, you will need to follow several steps in order to register a boat in Dubai. Filling out an application with the Dubai Maritime City Authority is the first step. Then you will need to collect the list of documents needed to obtain the Marine Craft Licensing. Also, keep account of the costs that you pay at this stage of registration.
The documents required to register a yacht in Dubai are as follows:
Licensing application form;

Certificate of original manufacturing;

Certificate of valid technical inspection;

A copy of the title deed;

A copy of the cancellation of registration, if the boat was previously owned by some other person;

The original bill of sale for the boat and original customs clearance certificate;

Identification documents for the company or individual requesting the registration.
What Else You Will Need for Yacht Registration? 
The very next important step is the reservation of a name for your vessel after purchase. As a follow-up, you will be required to install your yacht's number and submit it to an inspection process. The other compulsory requirement is obtaining a marine craft licence and certificate, which ensures the minimum level of safety for the boat.
The installation of a GPS tracker is one of the additional moves, which is necessary for the Coast Guard. You must also install a VHF device, which is used for radio communication and digital call selection, on boats that go deeper than 36 feet (1 fathom = 1.8288 metres). You need not worry about the registration process if you find it too complicated. You can always seek assistance from our legal professionals for the boat registration process while purchasing your boat. They can also help you in obtaining a visa or relocation to Dubai, for residence proof. You need not hesitate to contact us for assistance. 
Conclusion
Yacht buying is not as simple as you think it to be. It requires a lot of knowledge about yachts and the industry. If you are planning to buy a yacht in Dubai, you will need to follow all the steps discussed above. If you find them very complicated, you ask for guidance from our legal experts. Our legal experts are aware of all the formalities of a yacht purchase. So, to make your process smooth and hassle-free contact our yacht brokers without any hesitation.