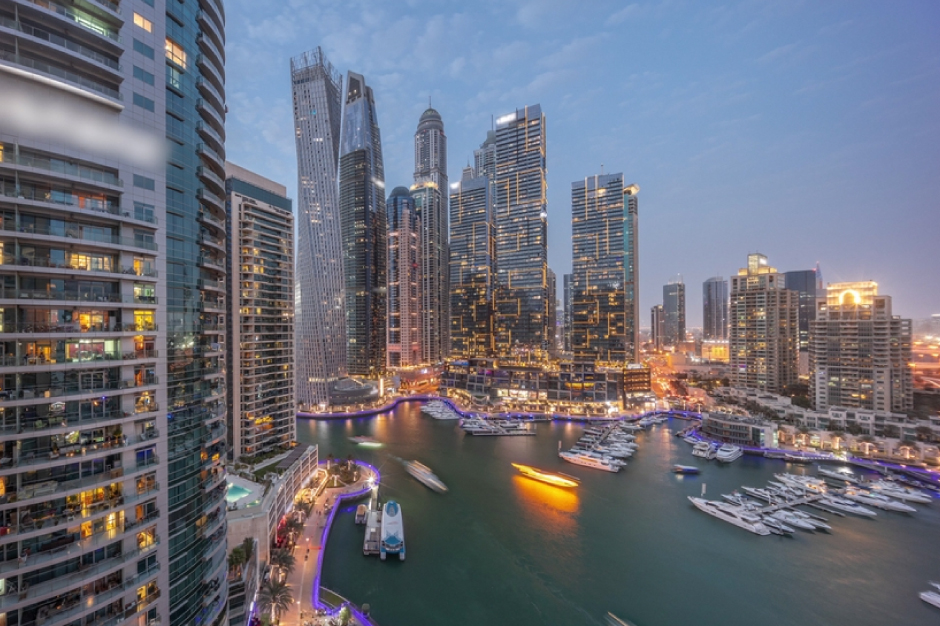 Dubai, with its magnificent shoreline and flourishing nautical culture, is a boat enthusiast's ideal location. We'll introduce you to the best sites in Dubai to moor your yacht in our thorough guide, ensuring your ownership experience is nothing short of extraordinary.
Dubai Marina Yacht Club, Location: Dubai Marina
For owners of city boats, the Dubai Marina Boat Club is a well-known destination. The lake and a number of activities, including eateries, pubs, and swimming pools, are accessible all the time. For your boat to dock, the gorgeous Dubai Marina skyline makes a great backdrop. It's a well-liked choice for locals and visitors who want easy access to Dubai Marina's busy lifestyle.
Dubai Creek Marina, Location: Dubai Creek
Dubai Creek mixes the modern elegance of today with the city's maritime past. In the midst of this historic neighborhood, the Dubai Creek Marina offers a tranquil setting among the city's activities. If you want to see Dubai's rich culture while still making use of top-notch yacht facilities, this is a fantastic choice. The Dubai Creek Golf & Yacht Club is also easily accessible from the marina.
Jumeirah Beach Hotel Marina, Location: Jumeirah Beach
The Burj Al Arab and the Arabian Gulf can be seen beautifully from the Jumeirah Beach Hotel Marina's great location. It is highly recognized for its opulent lodgings and first-rate service. You may use the hotel's amenities, which include a private beach, a number of restaurants, and water sports, by berthing your boat here. This is the place to go if you want a luxurious and intimate encounter.
Dubai Harbour Marina, Location: Dubai Harbour
Dubai Harbour is a new and ambitious project that aspires to be a renowned marine destination. This project includes the Dubai Harbour Marina, which offers cutting-edge amenities. It is intended to accommodate boats of various sizes, making it an appealing option for yacht owners. In addition, Dubai Harbour's planned retail and entertainment attractions are expected to improve the whole experience.
Palm Jumeirah Marinas, Location: Palm Jumeirah
Palm Jumeirah, with its unique palm tree-shaped island, provides yacht owners with a variety of marina alternatives. The Palm Jumeirah Marinas gives convenient access to the island's lively nightlife and eating alternatives. The marinas in this area are well-known for their convenience and accessibility, making them a popular option among boat enthusiasts.
The World Islands, Location: The World Islands
Consider berthing your boat at The World Islands for a really one-of-a-kind experience. These man-made islands provide a feeling of exclusivity and isolation, as well as spectacular views of the Dubai cityscape. Because of their distant position, access to and from The World Islands may need careful preparation.
Al Seef Marina, Location: Al Seef
The Al Seef Marina brilliantly mixes heritage and innovation. Al Seef is a historical area along Dubai Creek. It's a nice spot with a retro vibe. Before returning to your boat, you may tour the historic souks and traditional architecture. It's a wonderful alternative for individuals who like the contrast between old and modern Dubai.
Emirates Golf Club Marina, Location: Emirates Hills
Consider the Emirates Golf Club Marina if you like golf. It is close to the famed Emirates Golf Club and its beautiful green greens. After a day on the course, you may relax in the tranquillity of your boat and take in the scenery.
Dubai Offshore Sailing Club, Location: Jumeirah Beach
The Dubai Offshore Sailing Association is a non-profit organization that serves the requirements of both boat owners and sailors. It has a warm and serene ambiance, making it excellent for individuals who prefer socializing with other sailors. Furthermore, the club lends its support by sponsoring numerous races and events throughout the year.
Dubai International Marine Club (DIMC), Location: Mina Seyahi
The Dubai International Marine Club in Mina Seyahi is well-known for staging world-class sailing competitions and regattas. Berthing your boat here gives you access to a thriving sailing community as well as a comprehensive variety of maritime services. If you like sailing and competitive boat competitions, this is an excellent option.
The greatest yacht berths in Dubai are more than simply places to dock; they're entrances to a world of extravagance, adventure, and amazing experiences on the captivating seas of the Arabian Gulf. Keep this in mind as you set off on this thrilling voyage.