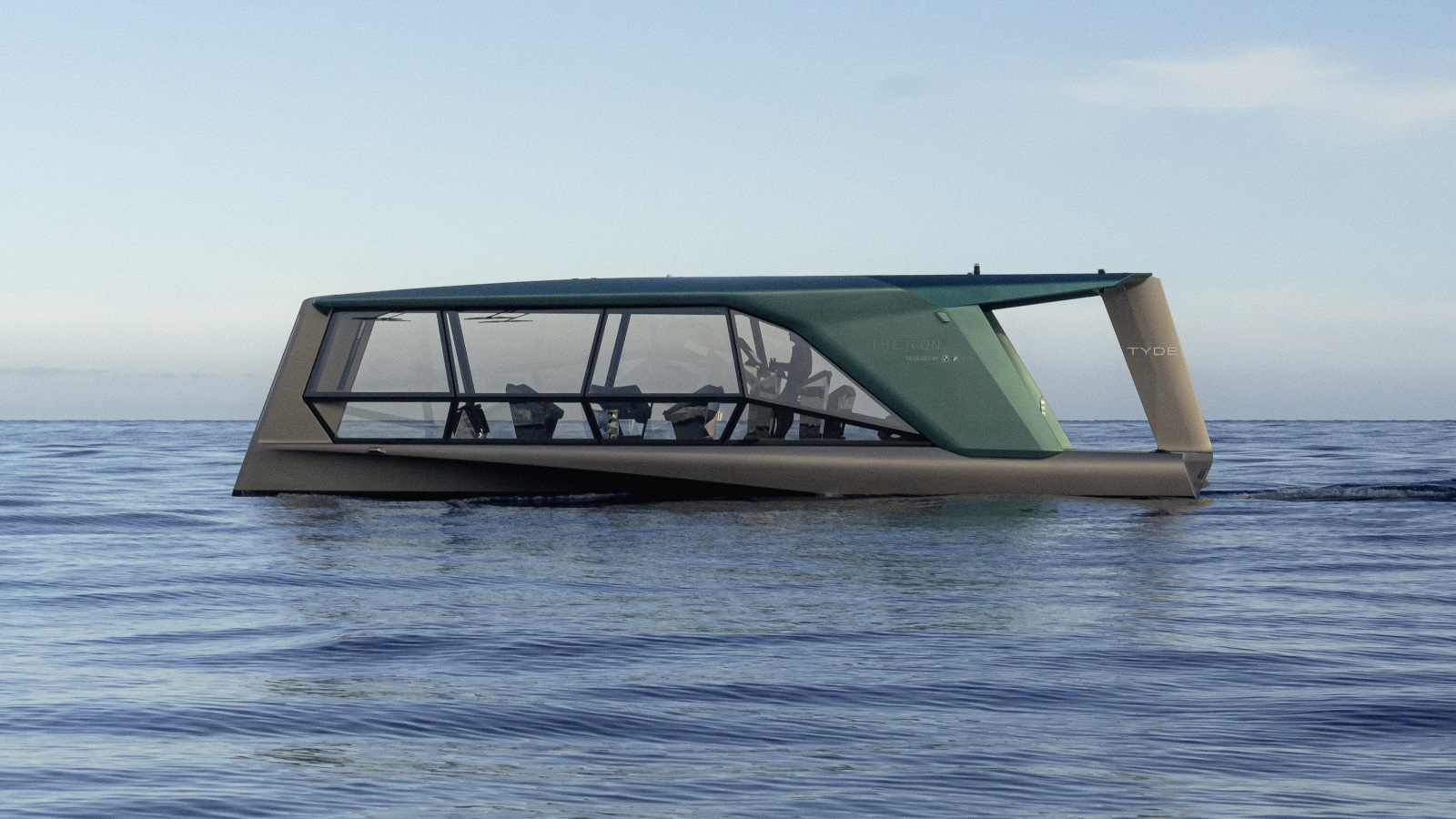 BMW, the renowned luxury automotive maker, has once again pushed its boundaries with its latest masterpiece 'The Icon'. A remarkable super luxury boat, the BMW Icon presents a seamless harmony of luxury and sustainability. Produced in a groundbreaking collaboration with Tyde – a pioneering force in the marine industry, this luxury yacht sets a new standard in elegance and eco-consciousness on the open waters.
Unveiled at this year's Cannes Film Festival, the BMW icon surprised the world as a true marvel of engineering and design. The Icon sets itself apart as the first of its kind in the realm of electric luxury boats. It has a pure electric propulsion system and draws energy from six cutting-edge i3 battery packs.
Measuring an impressive 13.5 meters in length, this exceptional vessel is an interesting combination of power, sophistication, and environmental responsibility.
The two 100 kW electric motors that power the BMW Icon are the reasons behind the exhilarating and silent cruising experience it offers. The boat has a remarkable range of 50 nautical miles at a speed of up to 30 knots. Discerning yacht enthusiasts are excited by the possibility of a guilt-free and emission-free voyage on this electric mobile.
The opulent lounge area boasts panoramic views, inviting guests to revel in the surrounding beauty of the ocean. Commanding attention at the center of the deck, the BMW Icon's command station resembles the iconic iDrive controls found in BMW's luxury vehicles. With intuitive touch-screen navigation, voice command capabilities, and a stunning 32-inch display featuring 6k resolution, every aspect of the yacht's operation is at the captain's fingertips.
"This is not merely a yacht; it is a statement of elegance, sophistication, and our unwavering commitment to a sustainable future," said the spokesperson at BMW. "With the BMW Icon, we have reimagined luxury, proving that exceptional design and environmental responsibility can coexist seamlessly."
Unrivaled in its eco-friendly craftsmanship, the BMW Icon embodies BMW's dedication to reducing carbon emissions and promoting sustainable mobility. By embracing electric propulsion, this extraordinary luxury yacht provides an unrivaled yachting experience without compromising the planet we call home.
BMW has always been at the helm of luxury automotive manufacturers worldwide and is renowned for promoting innovation, craftsmanship, and sustainable mobility. With a rich heritage spanning over 100+ years, BMW is known to set new standards in automotive excellence.
Tyde is also a marine industry leader. It has carved its niche in delivering exceptional luxury watercraft that are both innovative and environmentally conscious – in collaboration with industry leaders.
The Icon redefines luxury on the water with its elegance and electric systems.