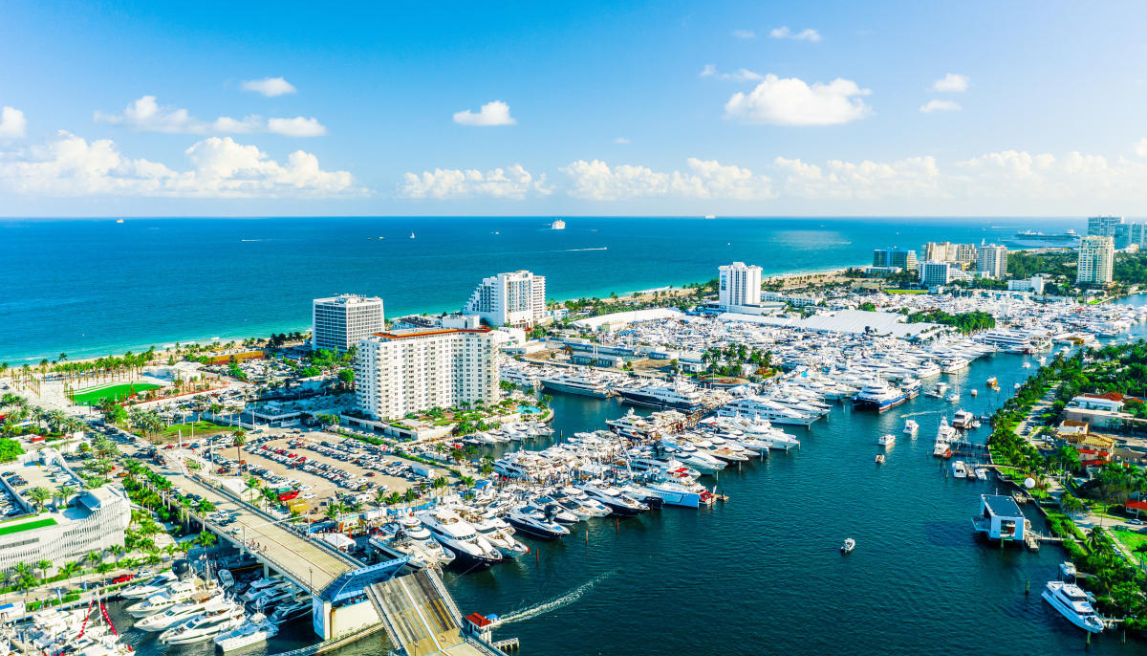 Fort Lauderdale, Florida – October 25-29, 2023
The Fort Lauderdale International Boat Show (FLIBS) is the largest in-water boat show in the world. Owned by the Marine Industries Association of South Florida (MIASF) and produced by Informa Markets, it is again bringing the world's finest marine exhibits to Florida – from October 25 to 29, 2023.
FLIBS is extremely popular with boat enthusiasts, exhibitors, and industry experts for being an immersive journey. Over five thrilling days, visitors from across the globe come here to see and experience the world's finest boats, yachts, and marine products.
Last year (in 2022), the Fort Lauderdale International Boat Show welcomed over 100,000 boat show enthusiasts – breaking all records for similar events. This year too, it is all set to be a grand global-level event expected to make an impact of $1.79 billion on Florida's economy.
More than 1,000 renowned boat manufacturers and marine industry leaders will display their cutting-edge products during the Fort Lauderdale International Boat Show 2023 – including 1,300+ boats and luxury yachts that are all set to change the world of luxury sailing forever.
The show schedule is as follows:
Wednesday, October 25: 12 PM – 7 PM (Preview Day)

Thursday, October 26: 10 AM – 7 PM

Friday, October 27: 10 AM – 7 PM

Saturday, October 28: 10 AM – 7 PM

Sunday, October 29: 10 AM – 6 PM
Seven distinct show locations where attendees can access their desired exhibits are:
Broward County Convention Center

Bahia Mar Yachting Center

Hall Of Fame Marina

Las Olas Marina

17th Street Yacht Basin

Pier 66 Marina

Superyacht Village at Pier 66 South
The show will feature a wide range of boats, including powerboats, sailboats, fishing boats, and superyachts. The range of marine accessories and technology you can check out here includes electronics (such as chart plotters, radar, and fishfinders), marine engines, and marine gear (such as fishing tackle, life jackets, and boating apparel).
FLIBS will also feature several educational seminars, workshops, and demonstrations on boating products, services, trends, and technologies.
The Fort Lauderdale boat show will span across 90 acres, which will have 3 million square feet of exhibit space. The venues will be interconnected by a network of water and ground transportation services.
The show will also be offering a VIP experience for premium clients. The Windward VIP Club is offering open bars, gourmet food, pop-up activations, and a complimentary water taxi service for its elite clients.
As a big-time annual celebration for the maritime industry, the Fort Lauderdale International Boat Show 2023 is poised to showcase extraordinary marine offerings and make a record-breaking economic impact on the state and the industry. If you are an aficionado of the world of boating, yachting, and marine innovation, you must visit this boat show!
Note: The Fort Lauderdale International Boat Show operates according to public health and safety guidelines. Please visit the official website https://www.flibs.com/ for updates and specific details regarding the show's operation and any COVID-19-related restrictions.